See Your Baby in 3D
3D ultrasound renders a surface view of your baby, allowing you to see your baby's face inside the womb!

4D ultrasound adds motion, allowing you to watch your baby's movements in real time. This is an incredible bonding experience for the whole family.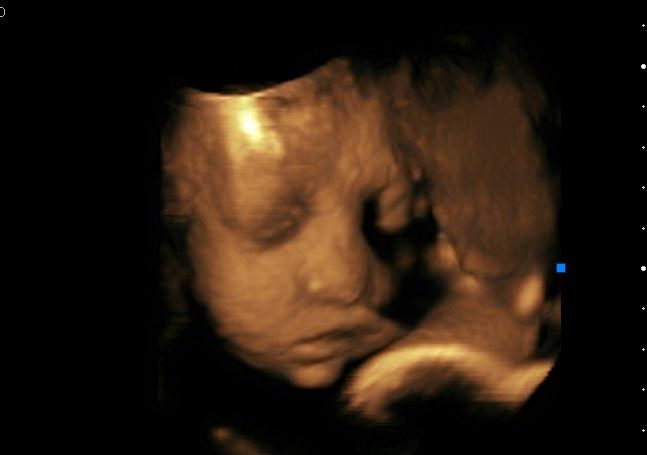 3D/4D Peek
---
20 weeks+*Recommended 27-33 weeks*
Includes:
15 Minute 3D/4D Ultrasound
See/Hear Baby's Heartbeat
CD of Images to Print/Share
Free Rescan if Gender Can't Be Seen
Free Rescan if Face Can't Be Seen
Package Add-On's:
Additional Sheet of Glossy Prints $10
Extra CD of Images $15
DVD Video of Recorded Session $20
Heartbeat Recorder $15
Heartbeat Bear w/ Baby's Heartbeat $35
If you are only planning on getting one 3D ultrasound during your pregnancy, we strongly recommend scheduling your appointment for 27-33 weeks. This is the best time for baby face images. Many moms like to have more than one 3D ultrasound, so they can see different stages of development and watch baby grow. Earlier ultrasounds are great for watching baby move inside the womb. When baby is small, you will see baby's whole body on the screen. Good baby face images can usually be obtained starting at 25 weeks, with the most optimal timeframe between 27-33 weeks. It is not advisable to schedule before 25 weeks for baby face images, as the facial features will not be fully developed and baby's face/cheeks will not be filled in with fat yet.